The default behavior of the sash allows dragging, but you must write code to make the sash stay.
You implement an event handler to adjust the FormAttachment object associated with the sash's movable direction.
For a vertical sash, adjust the left FormAttachment.
For a horizontal sash, adjust the top FormAttachment.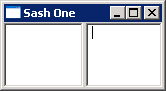 import org.eclipse.swt.SWT;
import org.eclipse.swt.events.SelectionAdapter;
import org.eclipse.swt.events.SelectionEvent;
import org.eclipse.swt.layout.FormAttachment;
import org.eclipse.swt.layout.FormData;
import org.eclipse.swt.layout.FormLayout;
import org.eclipse.swt.widgets.Display;
import org.eclipse.swt.widgets.Sash;
import org.eclipse.swt.widgets.Shell;
import org.eclipse.swt.widgets.Text;

public class SashFormSticker {
  public static void main(String[] args) {
    Display display = new Display();
    Shell shell = new Shell(display);
    shell.setText("Sash One");

    shell.setLayout(new FormLayout());

    final Sash sash = new Sash(shell, SWT.VERTICAL);
    FormData data = new FormData();
    data.top = new FormAttachment(0, 0); // Attach to top
    data.bottom = new FormAttachment(100, 0); // Attach to bottom
    data.left = new FormAttachment(50, 0); // Attach halfway across
    sash.setLayoutData(data);

    Text one = new Text(shell, SWT.BORDER);
    data = new FormData();
    data.top = new FormAttachment(0, 0);
    data.bottom = new FormAttachment(100, 0);
    data.left = new FormAttachment(0, 0);
    data.right = new FormAttachment(sash, 0);
    one.setLayoutData(data);

    Text two = new Text(shell, SWT.BORDER);
    data = new FormData();
    data.top = new FormAttachment(0, 0);
    data.bottom = new FormAttachment(100, 0);
    data.left = new FormAttachment(sash, 0);
    data.right = new FormAttachment(100, 0);
    two.setLayoutData(data);

    
    sash.addSelectionListener(new SelectionAdapter() {
      public void widgetSelected(SelectionEvent event) {
        // Reattach to the left edge, and use the x value of the event to
        // determine the offset from the left
        ((FormData) sash.getLayoutData()).left = new FormAttachment(0, event.x);

        // Until the parent window does a layout, the sash will not be redrawn in
        // its new location. So, force a layout.
        sash.getParent().layout();
      }
    });
    
    
    shell.pack();
    shell.open();
    while (!shell.isDisposed()) {
      if (!display.readAndDispatch()) {
        display.sleep();
      }
    }
    display.dispose();

  }
}