Select the text. Click the Layout tab under Table Tools.
       To align text, click one of the alignment buttons in the Alignment group: Align Left, Center, Align Right, Align Top, Center Vertically, or Align Bottom.


To distribute, and then click Distribute Rows or Distribute Columns.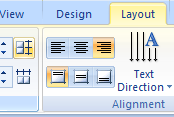 To change the direction, click the Text Direction button, and then select an option.