Click to the footnote or endnote.


Click the References tab.


Click the Footnote & Endnote Dialog Box Launcher.


Click the Number Format list arrow, then click the format.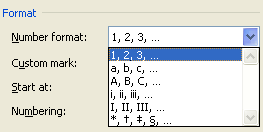 To change the starting point, click the Start at Up or Down arrows.


Then click the Apply changes to list arrow, and then click Whole Document.


Click Apply