Choose Review tab. Then click Protect Document


Select the Allow only this type of editing in the document option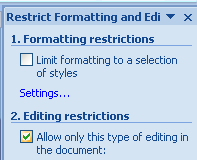 Tracked changes allows to change the document, but all changes are tracked.


Comments allows to add comments to the document.
          Filling in forms allows to supply data in fields, but does not allow them to change fields or other text in the document.
          No changes (Read only) allows to make no changes to the document.