2.1.12.Paste Options
Paste Options button that appears after the paste operation.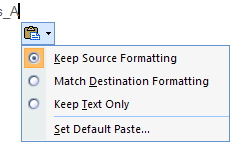 Keep Source Formatting brings the font selection or other formatting along from the original copied text.
Match Destination Formatting makes the copied text match the formatting.
Keep Text Only pastes the text characters with no formatting.
Use Destination Theme makes the text match the current theme.